Fishing in Key Largo, FL
Boats & Equipment
There are 2 boats to choose from depending on weather conditions, anglers and targeted species. My SUV of the backcountry is the versatile 2008 22' Shearwater z2200 bay boat with a Yamaha 250 four-stroke and has a 12" draft. This boat can comfortably accommodate up to 4 anglers as it is very stable and a comfortable ride on windy days. We can target snook, redfish, tarpon, permit, trout and even catch some snapper and grouper on the reef. This boat is equipped with an 8' Power-pole hydraulic anchor and a 36 volt Minn Kota trolling motor for stalking fish in the shallows.
For those looking to go really shallow, I have a 2008 16' Ranger Banshee which is a technical poling skiff for stalking fish on flats as shallow as 5 inches. This boat can accommodate up to 2 anglers and is perfect for chase tailing bonefish and redfish or chasing crashing snook on the flats. It's equipped with a 50 HP Evinrude E-tec, 21' Stiffy push pole, 6' Power-pole anchor and 24 volt Minn Kota trolling motor. This is the hunting boat, great for sneaking-up on weary shallow water fish and watching as they hunt down and attack your bait.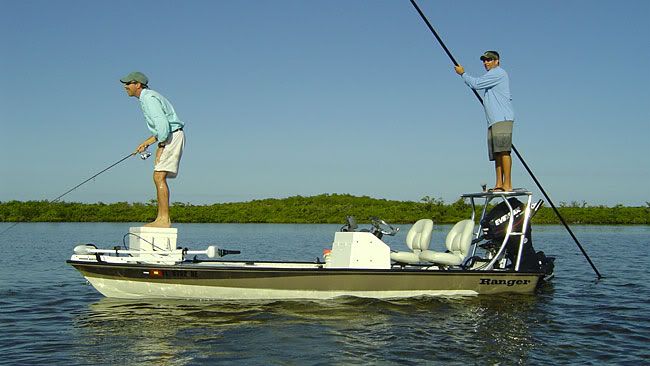 My fishing equipment is comprised of Abu Garcia, Shimano and Qualia spinning reels matched with Fenwick rods. I primarily use light spinning tackle which great for most of our shallow water species on the flats. When it comes to catching large tarpon and grouper, heavier tackle will be needed to handle these hard fighters.